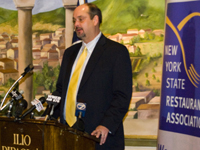 The WNY Chapter NYSRA
is proud to take our partnership with LocalFoodService.com to a new level.  Working in tandem with our partners there, we are introducing this new micro site to everyone in Western New York that enjoys dining out in all of our great restaurants!
This site will offer news on upcoming chapter events, what's happening locally and promotional activities related to the food service and hospitality industry.
Pictured Above: Rob Free - President of the WNY Chapter NYSRA