Local Restaurant Week Wrap Up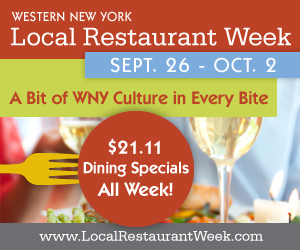 Over 200 Local Restaurants participated in this past Local Restaurant Week!  The WNY Chapter Members of the NYSRA was at a all time high!
WNY Chapter Members that participated in Local Restaurant Week:
AcQuA
Altons
Amaretto Italian Bistro
Amici Ristorante
Arriba Tortilla
Bings
Black & Blue
Buffalo Brewpub
Byrncliff
Caputi's
Casa Di Pizza
Chefs
Chocolate Bar
City Grill
Creekview
Crooked Door
Curly's Grill
Danny's Airport
Danny's South
DiGiulio & Co
Encore
French Pub
Garlocks
Gate House Grill
Glen Park Tavern
Ilio DiPaolo's
Jojo Bistro
Kennedy's Cove
Kentucky Greg's Depew
Kentucky Greg's Orchard Park
La Hacienda Brighton
La Scala
Le Metro
Mr Bill's
Mulberry
O'Brien's Pub
Oliver's Restaurant
Pano's
Pearl Street Grill & Brewery
Pettibones
Pizza Plant
Ristorante Lombardo
Salvatores
Schwabl's
Seabar
Sean Patricks
Shango
Sienna
Tandoori
The Irishman Pub & Eatery
The Roycroft Inn
Thank you for your participation!